HQ Hydra II 300 | Trainer Kite | Learn Kiteboarding | Free Gift

HQ Hydra II 300 | Trainer Kite | Learn Kiteboarding | Free Gift
Product Description
The New 2018 Hydra In Stock
2018 HQ4 Hydra 300 Water Relaunchable Trainer Kite
Medium Power / True Size: 2.6 Square Meters / Suggested Wind Range: 6 mph to 20 mph
Comes Complete and Ready to Fly!
The Hydra II is a water relaunchable closed cell foil trainer kite, great for learning kite flying skills on land, water, and snow . The Hydra II 300 flies great in a wide range of wind conditions and generates a medium to strong pull.
Learning to fly a kite in the water as well as on land has some great benefits. Also, learning to control your kite while being dragged through the water is a much different experience than just flying your kite on land.
The HQ Hydra II is the first and only water relaunchable foil trainer kite.
Its closed cell ram–air foil has no bladders to inflate or replace, yet it floats on water.
The kite is extremely stable and easy to fly.
A third line provides a safety system and the ability to reverse launch the kite, which is valuable for beginning kiteboarders, making it the perfect kite choice for beginners.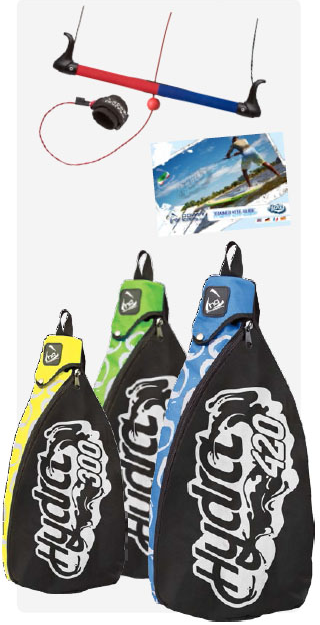 Kite Uses:
The Hydra 300 is good for learning kite flying skills on both land and water. The 300 is good for flying in a wide range of wind conditions and generates enough power for:
water body-dragging exercises
SUP-Kiting
Snowkiting for lighter riders on a hard packed snow.
Great with a off-road skateboard on firm sand, grass, or pavement
The Hydra II 300 is a great size kite for:
lighter weight kiters
families with teens
heavier riders or stronger winds
those who may not want as much power
In winds ranging from 6 mph to 10 mph, the kite produces a light to medium pull.
In wind ranges from 10 mph to 15 mph, the kite will produce medium to a strong pull.
In winds above 15 mph, the kite's power really begins to multiply with a strong pull.
The Hydra II Comes In 3 Sizes:
Hydra II 300. True Size 2.6m Square Meters. Medium Pull.
Hydra II 350. True Size 3.5m Square Meters. Strong Pull.
Hydra II 420. True Size 4.5m Square Meters. Stronger Pull.
The Hydra II: One of Our Best Kites for Learning Kiteboarding and Kitesurfing
Simple and Safe:
The Hydra II is our best amphibious trainer kite. The kite has been carefully designed to allow for greater agility and power in the turns. The kite's stability and 3rd line control bar provide a safe flying experience while allowing the person to focus on learning essential flying skills in their training sessions.
Hydra II 300 includes:
• Lightweight shoulder bag
• Dyneema Line Set (inkl.): 220 kp, 3 x 20 m
• Safety Control Bar 50 cm / 20''
• Safety Wrist leash attached to 3rd Line
Manufacturer's Specified Wind Range: 6mph - 29mph
Find Similar Products by Category